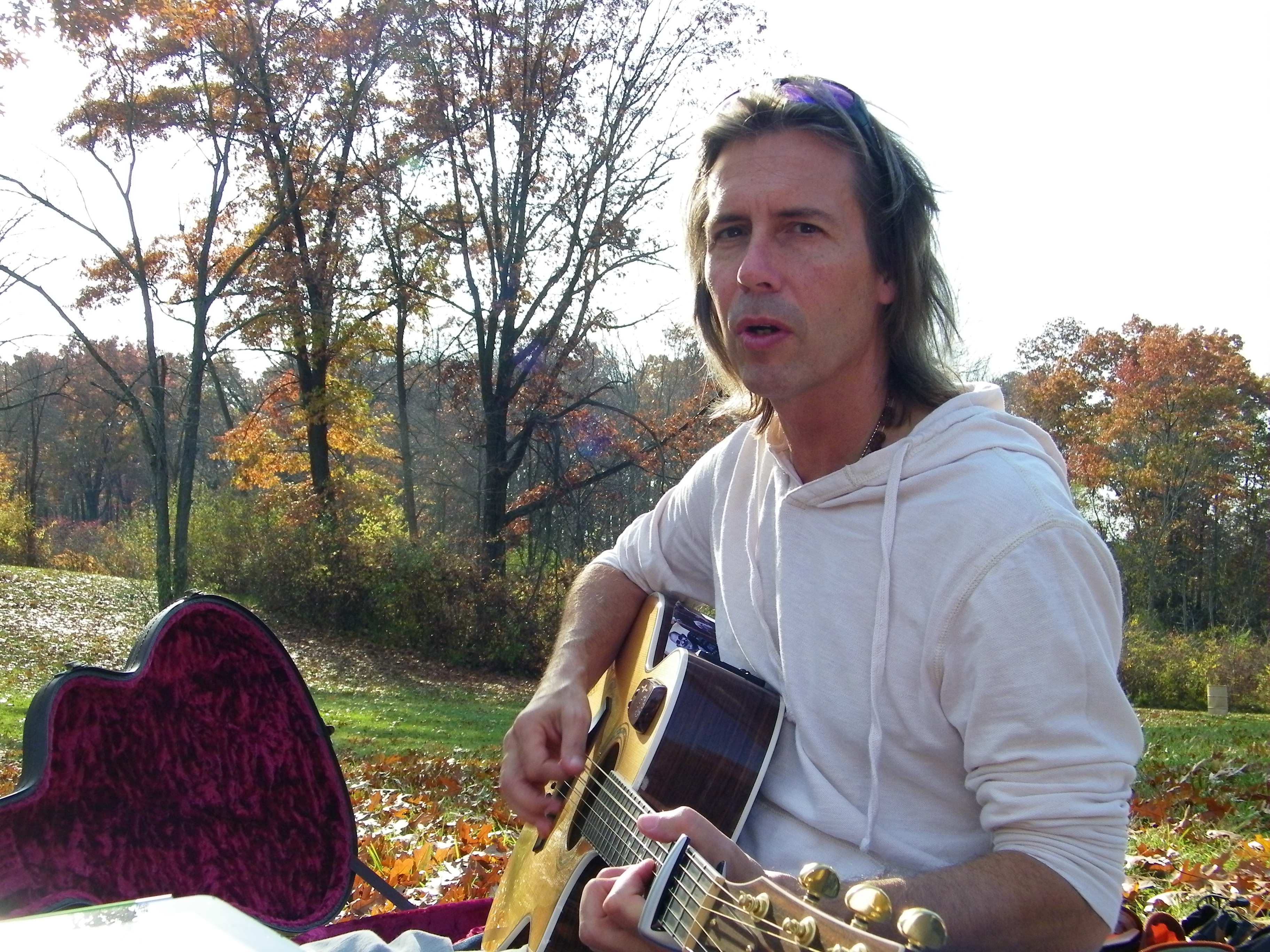 I am Shiva Das
I have been playing guitar since 1977. I've been in several bands, played rock, country, bluegrass, etc.
When I found my way to my first yoga class, I knew a new threshold had opened up for me.
When I met my spiritual soul-mate and life partner, Abhi Durga Devi, she introduced me to mantra. I went in kicking and screaming, but eventually fell in love with chanting, which then opened up a whole new world of musical possibilities.
We started "Vishnu Blue", a kirtan group with a good friend of ours, Tom Price.
In 2016 a "stroke" of grace left me with limited dexterity in my right arm and it became difficult to play, which just opened another doorway and led me to discover ambient music.
When I started playing, my guitar hero was Jimmy Page. Today my musical heros are Brian Eno, Bill Vencil & Robert Fripp.
And now my journey continues as I endeavor to create a true Ambient Music group called:

Shiva Das Ambient
About Shiva Das Ambient
Here is a short video I created in which I speak further about how I came to create Shiva Das Ambient as well as the creative approach I use when playing music
Join The Shiva Das Ambient Revolution!
Why join the Ambient Revolution?

Well, just because it's cool. And you will become a part of the movement!
Ambient music is good for you. It is a the Nada Yoga Experience!

When you join the revolution by subscribing you will receive:
-Monthly audio & video lessons on Nada Yoga Practice
-Monthly e-mail newsletter
-Advance notice of upcoming events
-Opportunities to join our road crew
-Be an active advocate & member of our street team
-Discounts on SDA merchandise & events
-special members only gatherings
-the joy of knowing you are supporting ambient music


Perks of Being a Road Crew Member:
-Advance notice of events coming up in our area!
-Free "Road Crew T-Shirt
-You will assist with moving equipment as well as setting up all of our sound gear, assist with sound checks and other cool behind the scenes things.
Join the Revolution Today!!
The Ambient Sound Lab
Welcome to my Laboratory.
I always sit on the floor when I practice, just like I would when we really play live.
You can see that I use my MacBook Pro computer with various synth apps and a small keyboard to trigger sounds. I am not a keyboard player but I use this to create backgrounds textures like a canvas to paint sounds upon.
The main creative juices flow from the vitamix of my guitars and are the filtered through various "guitar pedals", which are simply a series of special effects such as loopers, echos, sustainers, pitch shifters, etc. You don't need to know what they are, just that they modulate the sound that flows into my amp in various ways to create the beautiful and mystical music that just comes out spontaneously and organically.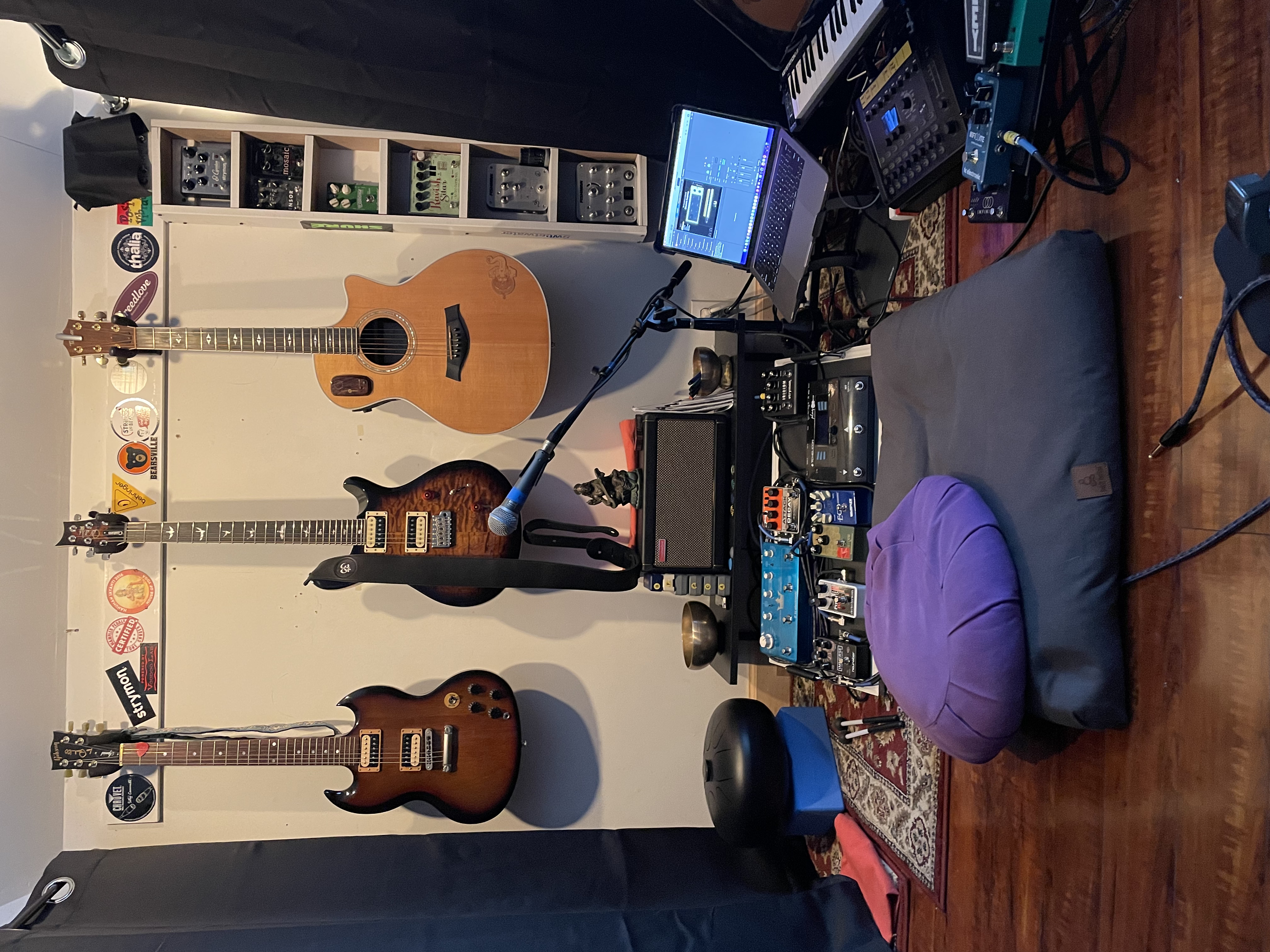 Sign up here to subscribe to our Shiva Das Ambient Nada Yoga Experience Site at the button below
Or simply make a one time or recurring donation to Shiva Das Ambient at: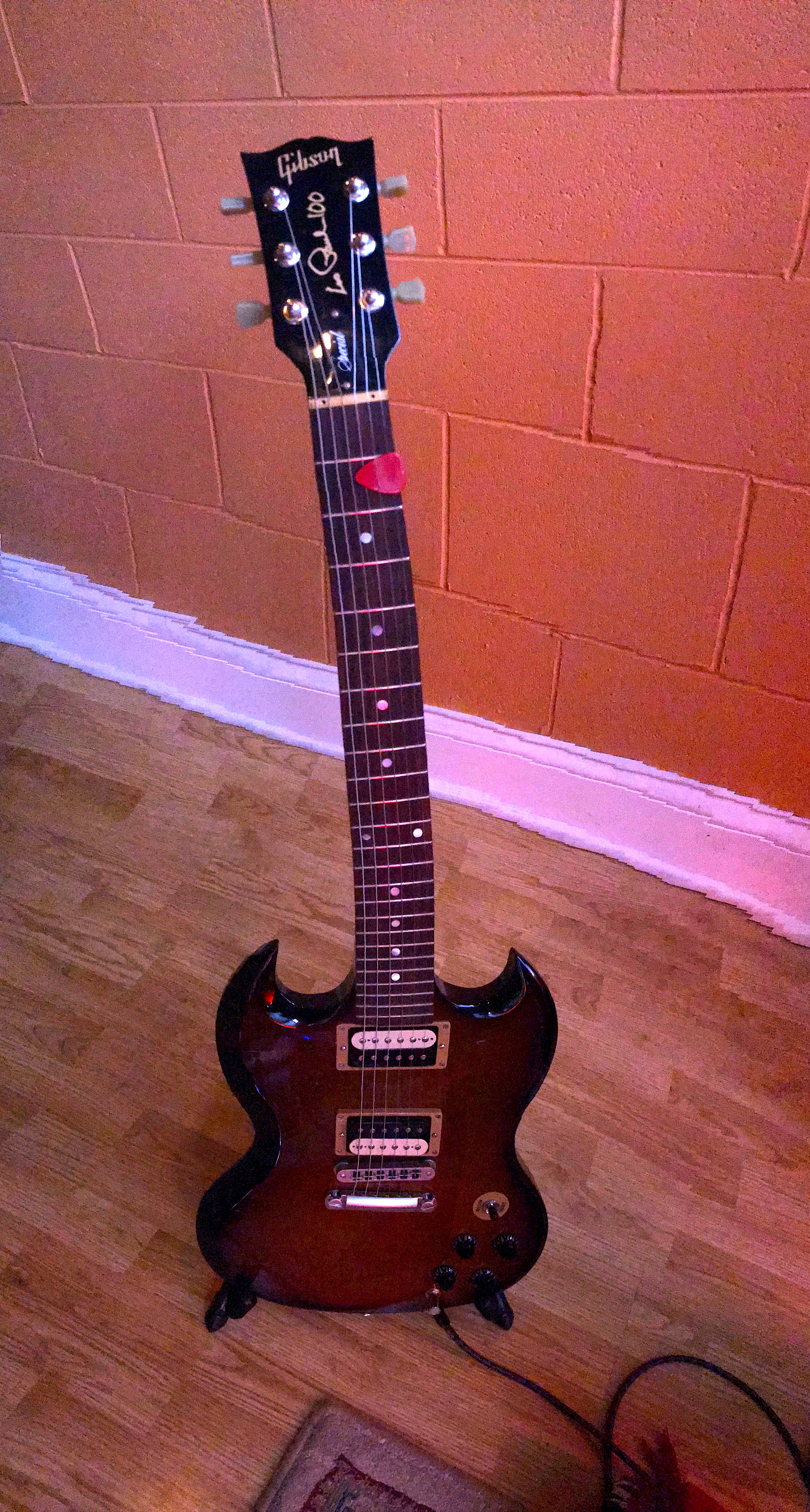 The Gibson SG Special
My main guitar for ambient music is this beautiful Gibson SG Custom Special. It's obviously been through a few spacial distortions and time warps


The Paul Reed Smith SE Custom
The Paul Reed Smith guitars are some of the best made guitars in the world.
This PRS Custom 24SE is my Ambient guitar of choice.
I love the bird inlay and it is just a beautiful guitar for ambient music.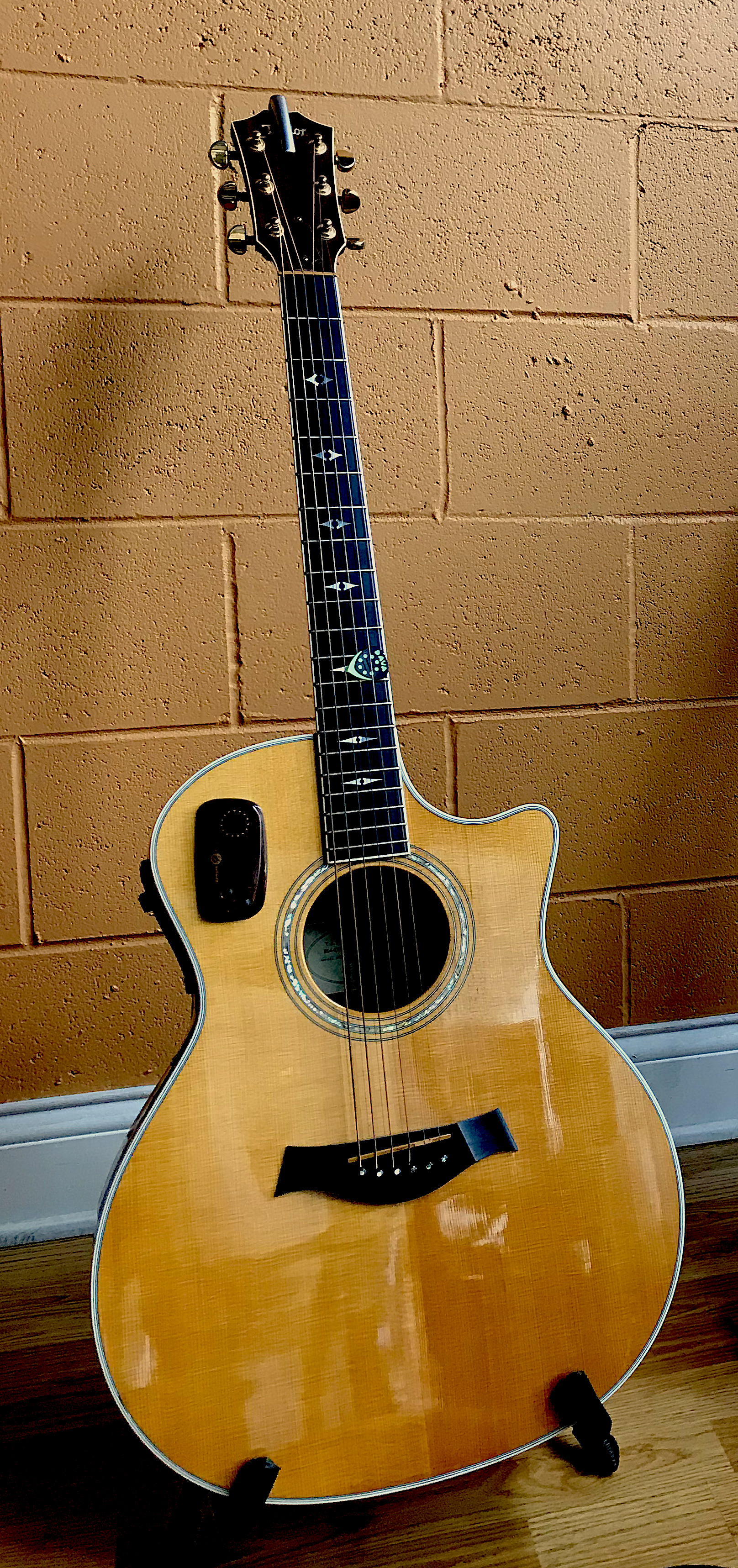 My Old Taylor 814CE
I've have this guitar for over 25 years! Today it is my go-to guitar to just pick up and play. It has beautiful full tone and is a pleasure to play.
I do use it for ambient music but more often for kirtan with Vishnu Blue!
SDA Curriculum
Fun & interesting bits of information and artifacts from "Mystical Archeology©" and Shiva Das Ambient
New content will be added on a weekly basis. Make sure you check back often!
Other Band Members

Shiva Das Ambient wouldn't be fully possible without the support of my fellow Vishnu Blue bandmates.
They may appear from time to time with me or I may be a solo one man band. Either way they are invaluable to supporting the music created by Shiva Das Ambient!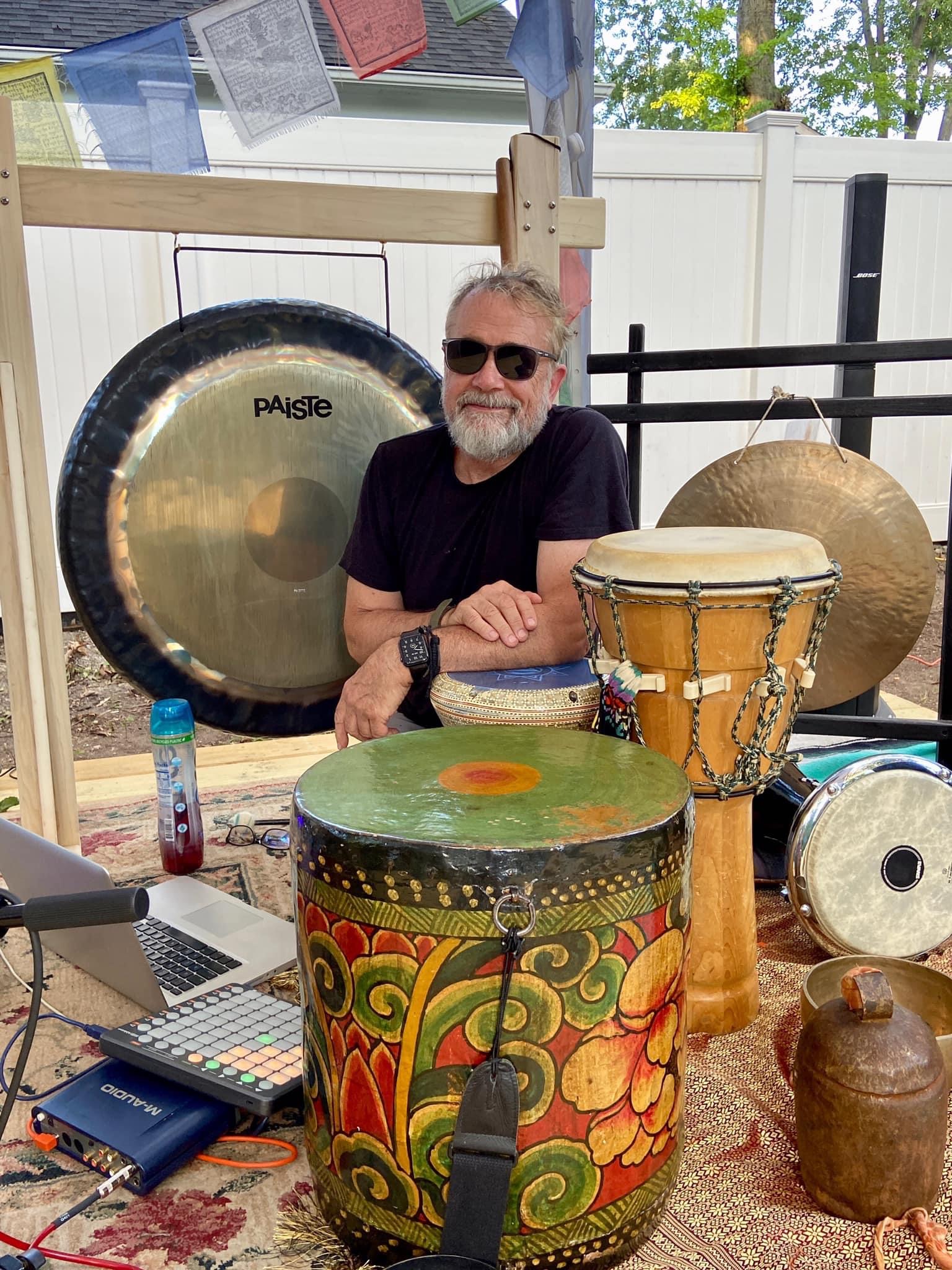 Tom Price
Tom Price is an extraordinary drummer! Using a variety of various hand drums, singing bowls, bells, etc., he creates subtle rhythms which perfectly compliments the nada yoga experience.


Tom has played drums since an early age, jamming with famous R&B Groups which cannot be named, but you know who they are. Additionally Tom is the preferred drummer for Bhagavan Das and has also played with Girish.
Tom is the best drummer in the world, and drummer for Vishnu Blue Kirtan as well.
Abhi Durga Devi
Durga Devi's sweet, innocent and angelic voice, along with her harmonium and keyboard accompaniment adds another layer of dimension to the sound textures created by Shiva Das Ambient.


Durga Devi has accompanied Girish on stage at Serendipity Festival & Bhagavan Das on stage at The Wild Woodstock Festival.
She is also the founding member of Vishnu Blue Kirtan.
Other Coures in Our Collection
Here are some other things you may be interested in along the way. Shiva Das is also a dedicated and devoted pujari, teaches sanskrit mantra & is a spiritual life coach.
Our work with our free Meditations on Hanuman Course is incomplete, but we will soon begin recording new meditations.
Check your inbox to confirm your subscription